Policies & Schedule
To keep events accessible for all, please read the following
(Schedule is at bottom)
RSVPs are required for every person for every event (including minor children, where applicable)
Please ONLY RSVP for YOURSELF. Each reservation includes health release forms that must be personally completed by attendee.
Attendance is tracked at every event. You are required to check in with the teacher upon arrival.
Organizers, teachers and venues have given a great deal of time and energy to create this week of yoga.
WE EXPECT YOU TO ATTEND THE EVENT(S) YOU HAVE RESERVED.
Need to cancel? Life happens. We understand. HOWEVER…we have
THOUSANDS
of people attending events and your reservation is most likely desired by someone else on a waiting list.
DO NOT email us that you need to cancel. We are busy handling dozens of other event responsibilities. Managing your reservation is not one of them.
You are expected to cancel your reservation online using instructions outlined below
Cancellations must be received NO LESS THAN 3 HOURS BEFORE THE EVENT or it will be counted as a no-show
Please open & read each of the next sections.
Double-Booking, No-Shows, Wait Lists
Double-Booked Reservations
If our records indicate you have double-booked yourself for 2 or more events occurring at the same date & time, we reserve the right to cancel both reservations.
If You Fail to Attend Your Reserved Event
If our records show you failed to fulfill 1 or more event reservation without prior cancellation, we reserve the right to cancel your remaining reservations through the end of the week, thereby opening the mat space for new students to attend.
If We Cancel Your Future Reservations
If your reservations are canceled for any of these reasons listed above, you will be notified by email
You will be welcome to attempt to reserve mat space again, however, if the event is full, you will be offered the opportunity to join a waitlist.
Yoga Gear & Age Requirements
Yoga mats are not provided. Please bring your own.
RSVPs are required for EVERY person, including minor children, where applicable
Unless otherwise noted, all events are for ages 12+.
Please do not RSVP for or bring children under 12 yrs unless event is Yoga for Kids
The grand finale class at the Saturn V Rocket is for ages 12+.
How to Cancel a Reservation
NOTE: If someone else originally placed the free order or registration for you, only they will be able to cancel your order or registration. Contact them, and they can follow the instructions below to cancel.
Canceling a Reservation - Step 1.
STEP 1:
To cancel your free order or registration, first log in to Eventbrite here with the email address you used to register for the event. (If you didn't create a password when you registered for the event–don't worry! You can easily create one from the log-in page.)
Once you're logged in, click My Tickets at the top of the page, if it's not already selected, and then find the name of the event you're registered for.
Now click View Order. (If you don't see the event, you might need to click All Orders under Current Orders.)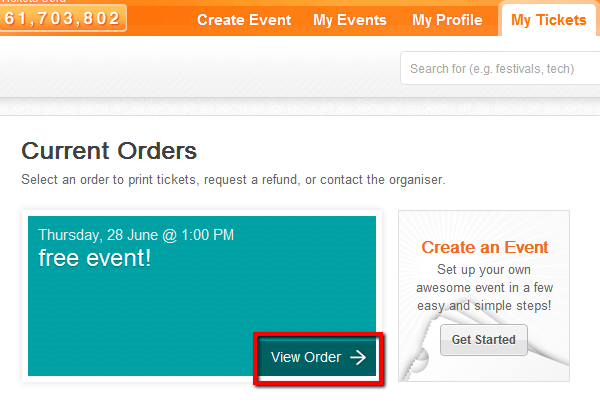 Canceling a Reservation - Step 2.
STEP 2:
Click the Cancel Order button under the View Event Details link.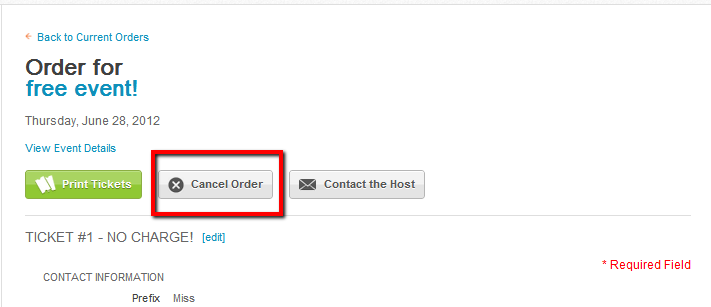 Canceling a Reservation - Step 3.
STEP 3:
Click Yes, cancel this order to cancel your free registration.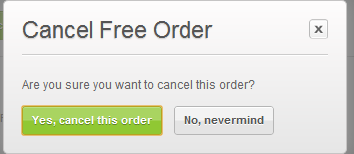 Once you've canceled your free order or registration, an email confirmation will automatically be sent to the organizer of the event and to you, for your records. To see an example of this email notification, check out the image below.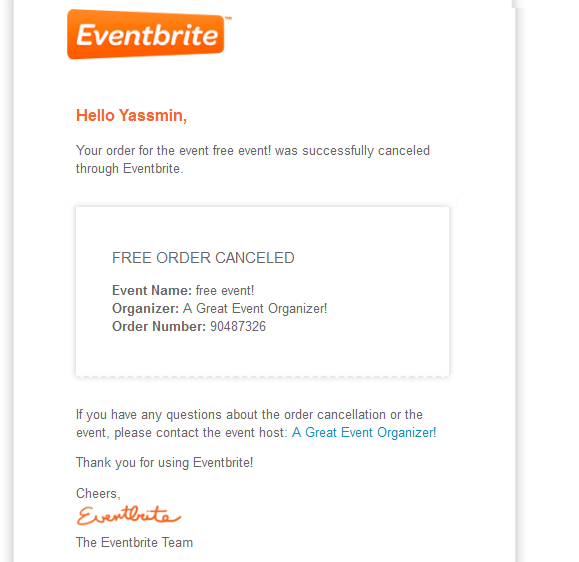 That's it! You've successfully canceled your free registration and notified the organizer of the event.
---
Our Sponsors
Be sure to thank them for their generosity!
---
The Schedule
Customize your week of yoga!
Monday
Tuesday
Wednesday
Thursday
Friday
Saturday
Sunday
Huntsville
Madison
Athens
Hampton Cove
Yoga Studio #1
Yoga Studio: #2
Yoga Studio: #3
Yoga Studio: #4
Yoga Studio: #5
Beginners Yoga
Flow Yoga
Gentle Yoga
Iyengar Yoga
Kids Yoga
Partners Yoga
Power Yoga
Pre-Natal Yoga
Restorative Yoga
Yoga for Athletes
Yoga for Seniors
Yoga for All-Levels
Meditation
Yoga & Chocolate
---
Still Have Questions?
Send us a message.
Contact Us